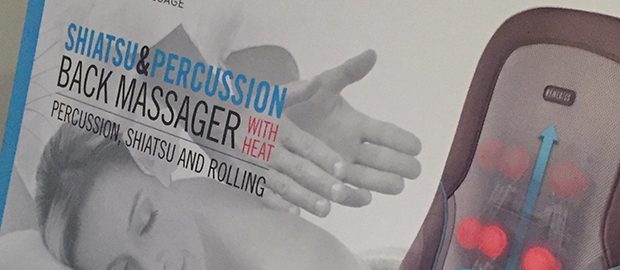 I have the best present for dad this Father's Day.
Who doesn't love a massage? Not only are they relaxing, but they can also be remedial, helping to relieve those tight, tired and sore muscles. I've been road-testing the Homedics Shiatsu & Percussion Back Massager (with heat!)…and by review I mean I've been sitting in this awesome massage chair every opportunity I get.
It's actually funny, we seem to have a family roster for the massage chair at the moment because everyone wants a go.
A bit of background about Homedics, they are the #1 brand in massage products have recently launched a range of back, neck, and foot massagers including the Quad Shiatsu Pro Massage cushion with heat (which I am road testing), 3D Shiatsu & Vibration Massage Pillow with heat and the Ultimate Compression Foot & Calf Massager with heat. These massagers products give you 'on demand pampering' – at home, in your own time. They are fabulous for sore muscles, sports injuries or to relax and ease away the stresses of the day.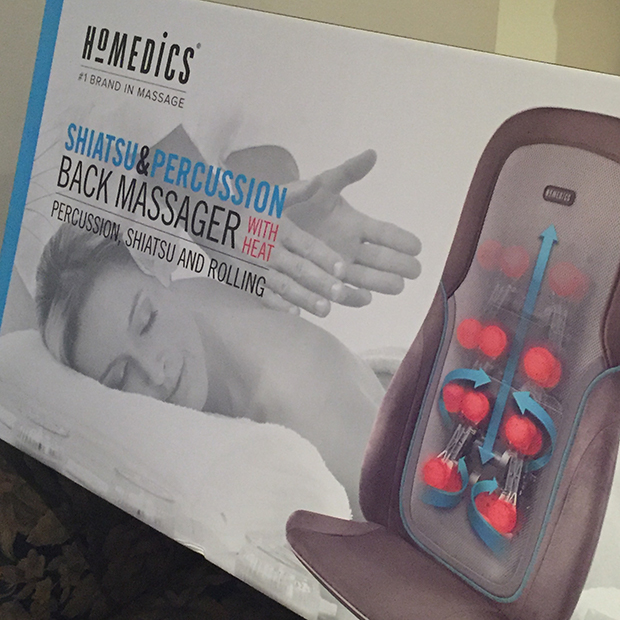 The Homedics Shiatsu & Percussion Back Massager with heat is awesome and has four massage styles in one cushion. These include Percussion (for a fast invigorating massage), Kneading shiatsu (for a deep muscle massage), Rolling (for a gentle relaxing massage) and Percussion and Kneading shiatsu combined.
There are a few great features that let you customize your massage experience.
The Perfect Fit feature lets you choose the perfect height for your back. This is good for us because my husband is over 6 foot and I'm…well I'm much shorter than that. There is also a width function that let's you adjust the width of the massage heads. Below is a little video I did to show you the massage chair in action.
The soothing heat is an added bonus which provides comfort to tight back muscles. It wasn't a burning or uncomfortable heat  but was a great addition to my massage! You can also choose specific areas to concentrate on with the zone control. There is full back, upper back, lower back, or spot for those niggles (right under the shoulder blade for me!).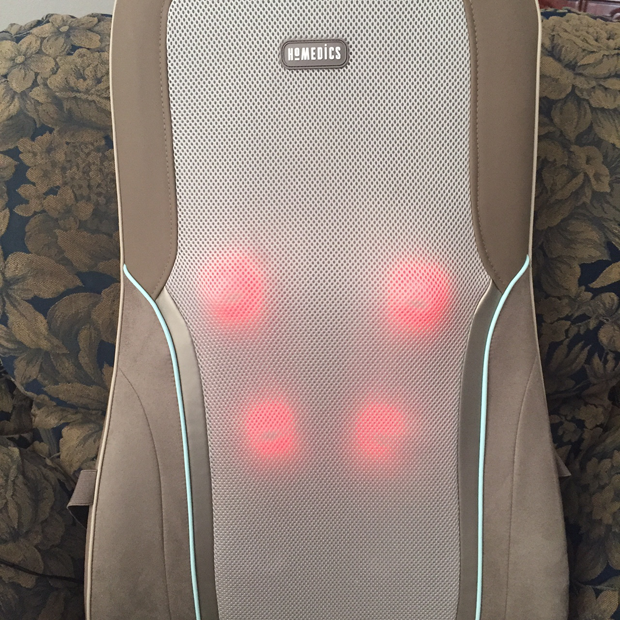 You can take control of the massage chair with the convenient programmable hand control and there is an integrated strapping system which fits most chairs. The massage chair is quite a solid quality piece and not just a flimsy massage pad. If you want the convenience of massage on demand, then I would highly recommend this massage chair.
This will make any Dad's day this Father's Day, and the greatest thing about the Homedics Shiatsu & Percussion Back Massager is everyone gets to use it!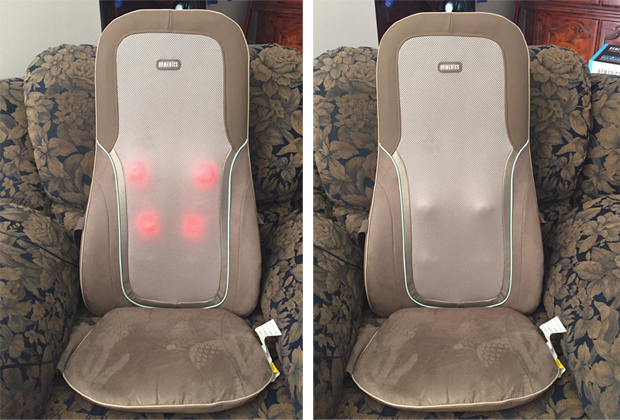 The Homedics Shiatsu & Percussion Back Massager is available from Myer, Good Guys, Shaver Shop and Betta Electrical and is RRP $299.99. For more information on all the Homedics products visit www.homedics.com.au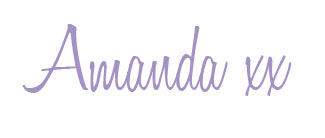 Disclaimer: I received a Homedics Shiatsu & Percussion Back Massager with heat valued at $299 to facilitate this review post. All opinions and words expressed in this post are entirely my own, based on my own experiences. And yes I would actually buy this product!!!