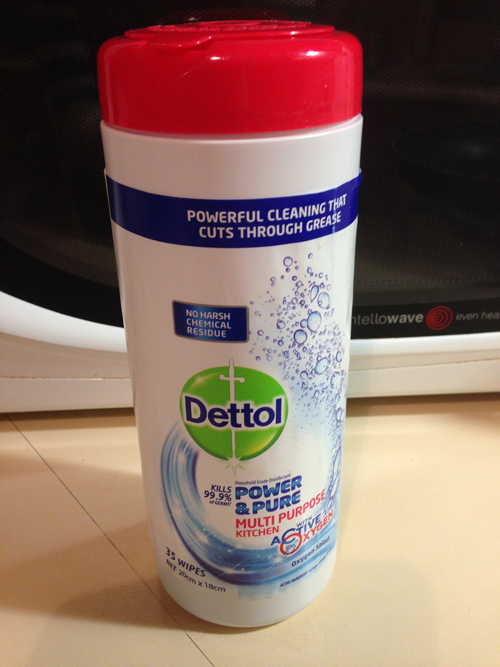 Well it's 2014 and it's clean start for me – literally

I'm trialling the new Dettol Floor Cleaning System and some of the other Dettol products: Dettol Power & Pure Multi-purpose Spray, Bathroom Spray and Power & Pure Surface Wipes.
My previous post gave you a run down on the Dettol Floor Cleaning System. Well this post is about the extremely handy Dettol Power & Pure Range: Wipes, Multi-purpose Spray and Bathroom Spray.
The Dettol Power & Pure products use an 'active oxygen formula which works on dissolving tough grease and soap scum. This means the the active ingredient breaks down into water and oxygen leaving no harsh chemicals behind.

Dettol Power & Pure Wipes: I found the wipes had an almost 'hospital' smell but were quite pleasant none-the-less. Once you used a wipe, the smell it left was a 'clean smell' if you know what I mean. They are  very durable but not really good on 'dried' or hard things (like dried weetbix!). They are fairly moist and will wipe up most small spills easily without becoming to manky. There are 35 wipes per packet which doesn't sound like much but I still have half a pack – really depends how often you use them.
The wipes are also a good size, bit bigger than your hand.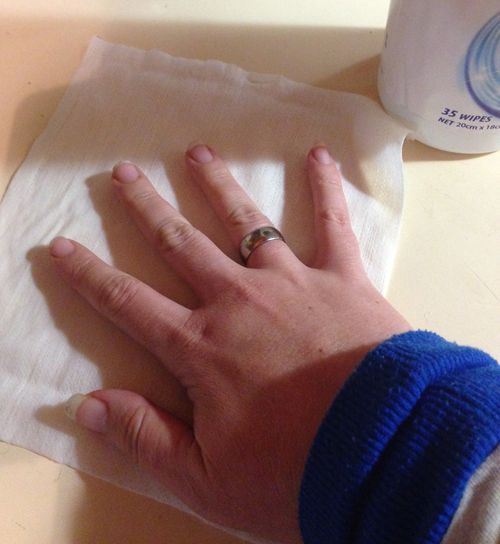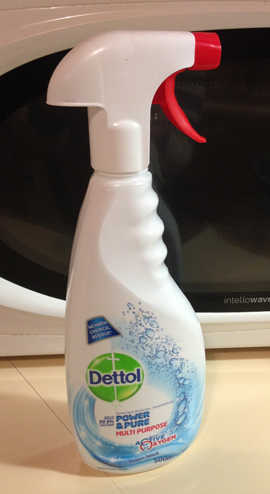 Dettol
Power & Pure Multi-purpose Spray:
The smell of this spray is much the same as the wipes. I was actually using this in the kitchen and my husband said "that smells clean".  My mum was here a few weeks back and said the same thing, so I think 'clean' is an accurate description as far as the smell goes. I'm going on about the smell as I find it pretty important when I purchase cleaning products. My son and I get 'hayfever/allergies' and the weirdest things can set us off on a sneezing rampage. This smell does not – YAY!
I don't have anything negative to say about the multipurpose spray apart from it does leave your hands feeling a bit sticky? But apart from that it does everything it claims.
I have a little trick… I use a Multipurpose wipe and once it gets a little 'dry' I spray the area that needs more 'work' with the Multi-purpose spray, and continue using the wipe as a cloth.
Dettol
Power & Pure Bathroom Spray:
Again this has the same 'clean' smell however this spray is a bit more frothy which is good when you are cleaning the bathroom. The frothy spray tends to stay put rather than run down the wall, bath, shower. It cuts through filthy bath scum easily – woo hoo.

Dettol has never been my cleaning product of choice but after trialling them I would buy them again. The reasons are the smell, and that they do what they say – clean. Some sprays you need to use lots of but these you don't seem to have to.
THIS COMPETITION IS NOW CLOSED

  Why should I be the only one to try these fab products?
I have a Dettol Pack to giveaway which includes everything pictured (and listed) below:
1 x Dettol Floor Cleaning System
1 x bottle of Dettol Power & Pure Kitchen Spray
1 x bottle of Dettol Power & Pure Bathroom Spray
1 x Dettol Power & Pure Surface Wipes.
To enter visit my previous post here.
Competition closes 31 Jan 2014.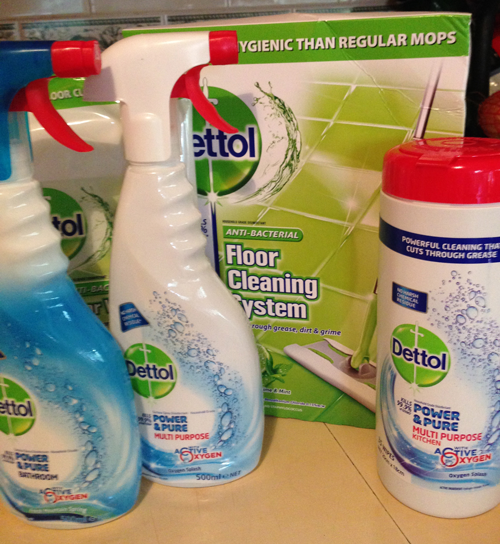 Good luck.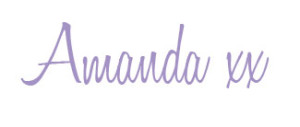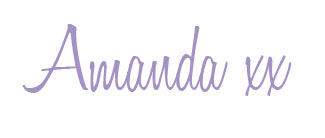 Disclaimer: I received a Dettol Pack containing the above items for the purpose of reviewing. I received no payment for this post and all opinions expressed are my own.