So I work five days a week, have three kids, write this blog and do occasional freelance work – a little busy perhaps? I work as a graphic designer by day and blogger, mum and wife by night.
My work wardrobe isn't as "corporate" as some. Being a designer people excuse the fact I'm not a "suit" type of gal and as a busy mum of three I don't have as much morning "prep" time to make myself immaculate – actually it's sometimes a super human effort to get out the door looking like I haven't stepped out of a tornado.
These circumstances require my work wardrobe must:
– be reasonably priced (let's face it, I ain't got the budget to rock out Chanel 5 days a week)
– be easy care (I just don't have the time for hand washing and delicates: wash n wear is my motto. The less I have to iron the better)
– look good and be on trend (I don't want to be the office dag, after all I'm suppose to be some kind of creative, funky designer 🙂
– be comfortable (nuff said)
– be flexible (I need to have pieces I can mix and match)

My challenge – styling a five day work wardrobe using three key pieces.  
I am calling these essentials.
I am doing this (super fun) challenge thanks to Target, who I have to say have always been a favourite of mine.
Many of my friends and family agree. The clothes there are good quality, reasonably priced (they always seem to have a great bargain rack) and they are also on trend (which is good for an old dag like me). It's worth mentioning that Target are great for kids clothes and shoes to….but back to my challenge.
My theory is the foundation to a flexible, easy work wardrobe consists of three key pieces that you can mix, match, dress up, dress down and that won't break the budget.

So my three key essentials are all black and here they are in no particular order.
The black pencil skirt.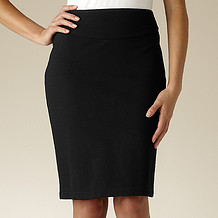 This skirt is comfortable – it's pull on YAY!
Affordable – only $39 YAY!
Very flattering – Super YAY!
 It's got a bit of stretch and feels sturdy and well made – quality YAY! So it ticks all my boxes.
Now before I go on, I'm not so much of a skirt type (dresses I'm ok with, but skirts not so much) so for those of you who are more "pantsy" theCity Dressing Ponte Crop Pants – Black are for you. They are pictured below and are only $39 and tick all the boxes the Ponte Pencil Skirt does.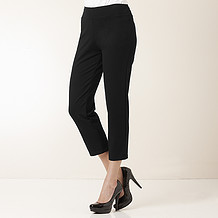 The City Dressing Ponte Crop Pants are soooooo comfy and are great for those days when you don't want to wear the more "formal" looking work pants which happen to be my second essential piece…..
The black work pants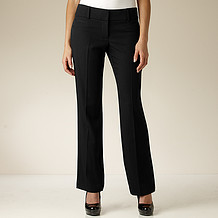 These pants are classy and made for those high powered meetings (if you go to them) and with just a touch of stretch they are really comfortable – YAY!
Affordable – only $39 YAY!
They are a nice cut and flattering to the not so slender woman such as myself. My husband actually said my bum looked good in them (without prompting).
So again these pants tick all my boxes.
And finally we have the Little black dress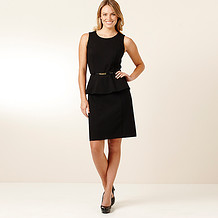 I don't have to say much, this dress speaks for itself.
The peplum style is on trend and very flattering and you feel good wearing it. It is made out of a thicker stretchy type fabric so it is really comfortable.
For $59 this dress is great value and perfect for Friday (and after work drinks).
The thing I love most about these three pieces is they are all made out of "stretchy" fabric without looking casual.
So now I have revealed my three key pieces tune in next time to see how I make them work for my five day working week. You will get to see them on a real person (me) when I team them up with some of the other fabulous clothes in the range from Target…..let's see if I am up to the challenge 🙂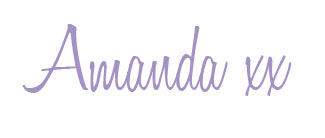 Just so you know or more formally – Disclaimer: This is a sponsored post by Target Australia however the views expressed are my own.