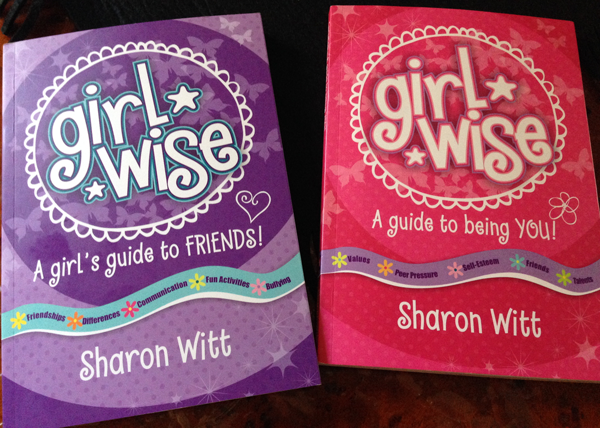 Being the mum of a seven year old girl I can tell you I am freaking out about getting through the tween – teen years. You'd think seeing as I was once a young girl myself I would be completely qualified to assist my daughter with all that life and growing up will throw her way. But as the tween years approach I realise I know very little and sometimes don't even understand what makes my daughter tick. I have found that boys (I have two) are very different to girls and I find my sons are somewhat less complicated – if that's the right word?

For many young girls, navigating the tricky 'tween' years can be difficult. This is the time when friendship dynamics change, self-esteem issues begin to arise, and bullying rears its ugly head. It's a tough transition with so much happening, and sometimes they need a bit of guidance. Girlwise is the new series of books from educator and best-selling author and educator Sharon Witt, written especially for young girls aged 7-12 to help them through the good and bad times. 
Girlwise: A Guide to being YOU! explores the importance of girls being created as unique individuals of great value and worth. Topics covered include developing self-esteem, coping with negative feelings and discovering their own unique talents.
The second book in the series, Girlwise: A guide to FRIENDS!, explores the importance of girls developing healthy friendships and how to deal with friendships issues as they arise. Topics covered include advice on building strong and healthy friendships, dealing with bullying, helping friends who are struggling, and working through conflicts. Filled with activities, case studies and colourful illustrations, the Girlwise book series is a must-have guide for any young girl about to embark on this important stage of her life.
Miss 7 has been reading through A Guide to being YOU! and it has had a positive effect on her and given us things to talk about – given us common ground 🙂 I personally find the books really well written and take my hat off to author Sharon Witt for tackling this tricky stage with something young girls can relate to and enjoy!
These books are $12.95 and you can find out more information about the books and author Sharon at www.sharonwitt.com.au