Every toy LeapFrog creates is specially designed for a specific age and stage of development.
I love LeapFrog toys – they are fun and educational! Those toy designers at LeapFrog are actually quite sneaky as somehow they design toys to help little learners reach those milestones while they play!
By mixing curiosity and opportunity, playtime becomes learning time too.
I have two great LeapFrog toys to road test – the Peek-A-Boo LapPup Scout and the My First Scout Book. My kids are unfortunately too old for these toys now, so my lucky nephews got the job of road testing for these two. Little O is nearly 3 years old and Little J is almost one, you can read below a bit about the toys and then see what mum and the boys thought.
Plus I have some fabulous LeapFrog toys to give away, see below for how to enter!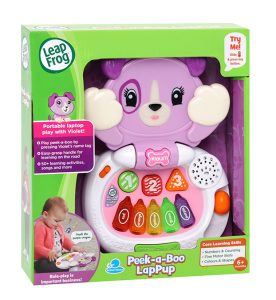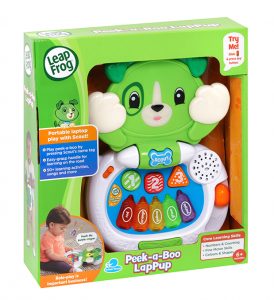 The Peek-A-Boo LapPup comes in both a  Scout and Violet version. Learning is important business with the Peek-a-Boo LapPup! Open the toy laptop and say hello to Scout or Violet before getting to work on learning about rhymes, shapes, colours and numbers. Press Scout or Violet's name tag button to move their paws in front of their eyes and hear cute peek-a-boo phrases.
Press the other buttons to activate more than 50 learning activities and songs. Five crayon buttons light up piano keys to teach numbers, shapes and colours. Three shape buttons play rhymes about shapes, colours and numbers. Slide the clicking mouse up and down for additional imitative play. Close the lid and say goodbye! Great for both at-home and on-the-go learning fun.
Peek-A-Boo LapPup Scout and Violet – RRP $24.95 – Suitable for infants from 6 months and available from June in Big W, good toy stores and online retailers.
Peek-a-boo Lap Pup – What mum and the boys thought…
Finding toys that are both interactive and educational for the right age, can be difficult! So I'm thrilled with this toy and so is Little O. He calls it his 'computer' and sits up at the desk and says he is doing his work. So he is using it for role play games- great for his language, communication skills and imaginative play.
On top of this – what a great toy for learning – phrases, shapes, colours and numbers! Little O sits with this most days pressing buttons repeating the colours, numbers, singing the rhymes. If you are looking for a toy that is hidden with lots of learning – I highly recommend this one. Little O is nearly 3 and this is still suitable for him.
Little J who is nearly 1 also gets great enjoyment from this Peek-a-boo Lap Pup – he smiles and babbles while listening to the rhymes and phrases. He thinks he is very clever pressing the buttons as well – great for fine- motor and cognitive development at this younger age. A great toy all round.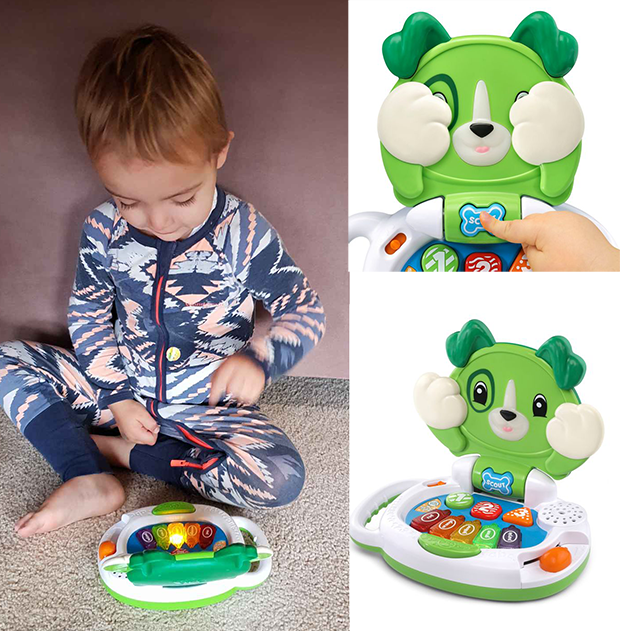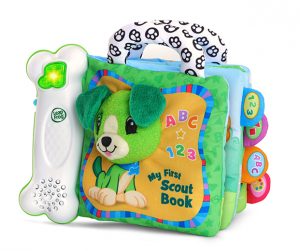 My First Scout Book – Again this comes in both Scout and Violets versions. There's something to learn on every page of these My First Scout and Violet Books. Each page of these touch-and-feel books will delight your baby as they explore the shiny pond, crinkly flower, peek-a-boo flap and baby-safe mirror. Press the music note button to hear an adorable welcome song and four sing-along songs that introduce your little one to numbers, letters, colours and shapes.
Explore more learning on each page by pressing the soft 123, Shapes, ABC and Colour tabs to hear songs, sounds and learning phrases. Help Scout or Violet find the hidden bone on each page. Babies can grasp the handle and take it everywhere they go!
My First Scout and Violet Books, RRP $24.95 – Suitable for babies from 3 months and available from July at Big W, good toy stores & online retailers. 
My Little Scout Book – what mum and the boys thought…
Brilliant toy for Little J at this age and so great to travel with. Easy to put in a bag or in the car. Easy to hold for little fingers and he is enjoying turning the pages on his own! Fabulous educational toy for learning letters, colours, shapes and numbers.
He also enjoys the bright colours, the crinkly material and looking at himself in the mirror. Little J particularly enjoys pressing the button on the front of the book and dancing to the songs. He bops up and down and sings along with babbles. Great for language and learning.

Another great toy – I would definitely recommend both of these toys.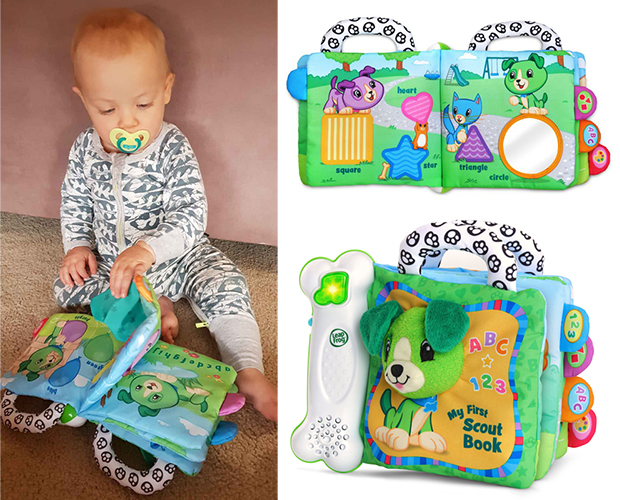 For more information on the Leap Frog My First Scout Book or the Leap Frog Peek-a Boo LapPup or anything in the fab Leap Frog range visit www.leapfrog.com.au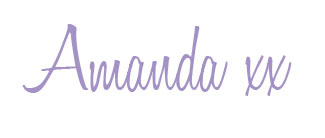 Competition now closed.
A LeapFrog Peek-A-Boo LapPup or a LeapFrog Butterfly Counting Friend!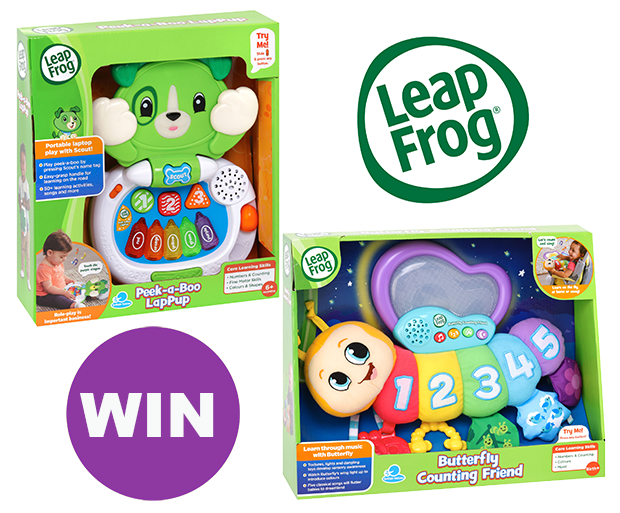 You can read all about the Peek-a-boo Lap Pup above and below is a little about the Butterfly Counting Friend
Enjoy a flutter of colour with the Butterfly Counting Friend plush learning toy. Five colourful number buttons play a variety of songs to teach colours and numbers and to experience different textures and sounds. A kaleidoscope of colour, butterfly's light-up wing shows the colours of the rainbow. It also helps your baby fall asleep with soft, classical melodies and lullabies.
Each element of this on-the-go toy features a dangling toy that rattles, squeaks, turns or crinkles to help develop fine motor skills. Learn at home or on the fly by using the included straps to secure the butterfly to a cot, high chair, infant carrier or stroller. RRP $29.95 Suitable for babies from birth and available from July at Big W, good toy stores & online retailers.
For your chance to win either the Peek-a-boo LapPup or the Butterfly Counting Friend, tell me below in 25 words or less which one you would like to win and why?
Good luck!
Competition ends 1 July 2019. T&C's can be found here.