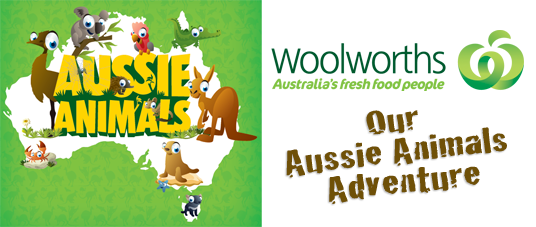 Last Sunday we were extremely lucky to be invited to Taronga Zoo to learn all about the new Aussie Animals Trading Cards.  Woolworths have teamed up with Taronga Conservation Society Australia to launch 108 fantastic trading cards, all about (you guessed it) – Aussie Animals! These trading cards are available exclusively from Woolworths from TODAY (18 September).
We had such a great day at the zoo. The kids had no idea what we were doing. All I had told them was we were going on a super surprise. They were busting with excitement and were up and ready to go by 7am Sunday morning. Here's how the day went…..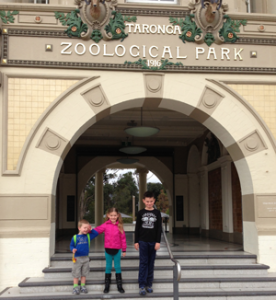 We arrive at Taronga Zoo and have the mandatory "standing on the steps" photo at the front gate. Mr 3 (Little L) had brought his monkey backpack (without even knowing we were going to the Zoo) so you can imagine how excited he was when he found out there was a real possibility we were actually going to see a living, breathing monkey.

The kids soon realised this was no "ordinary" trip to the zoo ….We had some special guests to meet.

Little L loved Kogga the snake. Miss J and Mr M became quite friendly with Pugsley the Echinda.
The kids also came up close and personal with a Ringtail Possum and a Bearded Dragon. The zoo keepers were so lovely and we all learn't so much about these interesting animals.
The kids were much braver than me with the snake – eeek.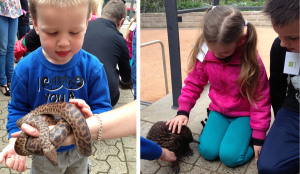 After meeting the special guests, we all headed off to the "farm" and fed the chooks, met the baby goat and the 'kaaannngawooos' … Little L was beside himself when he spotted the Kangaroos and couldn't wait to go up and feed them. He also fed the chickens with handfuls of meal worms (eewww). Miss J was not going to touch the worms 🙂 But Little L was right in there not scared of worms or kaannngawooos that were actually bigger than him!
There really are so many fascinating Aussie Animals I'm surprised there are only 108 cards 🙂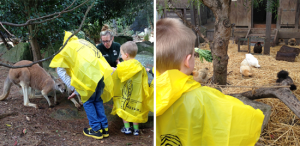 Next was the ultimate.

Front row seats at the Woolworths Seal Show. What can I say?
These seals are just amazing and you can see from the picture below how excited the kids were. We were close, more specifically we were in the "splash zone" but that wasn't a problem. The only problem was the show didn't go long enough, it was so entertaining and informative. A must see if you are heading to the zoo these school holidays 🙂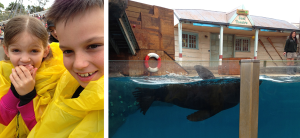 Oh but wait there's more!!!
Once the show had ended and everyone had left we all stayed behind and met the star of the show – MIYA the seal. Miya shook Little L's hand and let Miss J and Mr M give her a pat. Such amazing creatures – WOW!!
And last but not least we ventured down to the QBE Bird Show. By this stage the rain had cleared to reveal a beautiful Sydney day. With the spectacular backdrop this show was amazing. If I could only train my kids half as well as the seals and birds at Taronga Zoo my life would be a breeze 🙂

What an amazing day!!
When we got home Miss J got her Aussie Animal plush Turtle toy out and was pretending to be a zoo keeper all night, her Turtle even performed a show and was fed treats for doing tricks for the crowd (bahhaha). The kids decided to pool all their trading cards together and we spent a few hours going through the Collectors Album carefully putting in all the cards and reading all the fun facts and information.

So enough about by fab family adventure….what about the trading cards, how do you get them?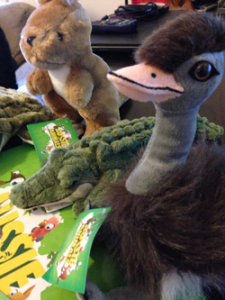 Well as I said there are 108 Aussie Animals Trading Cards to collect. Woolworths customers will receive one free pack of cards with every $20 spent at their local Woolies.
Cards are available for a limited time and you can purchase a Collectors Album for $5 (two for $8) to hold all your cards. There will be trading opportunities so you can get the whole set (keep an eye on the Woolworths Facebook Page for more details)
To complete the Aussie Animals Collectables there are six plush toys to collect: croc, emu, kangaroo, turtle, koala and platypus – $5 (or two for $8)
And remember the Aussie Animals Trading Cards, Album and plush toys are only available at Woolworths for a limited time.
We would like to thank both Woolies and Taronga for an absolute ripper of a day and for creating something that the kids find fun but is also educational (that last one's more for me).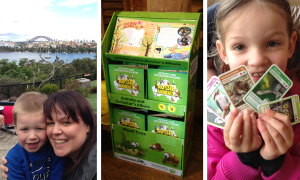 This competition is now closed.

Thanks to Woolworths and Taronga Zoo I have some crazy– awesome prizes to give away.
Just in time for the school holidays!
Please show your "social" love for both Woolworths and Taronga Zoo by liking them on Facebook and following them on Twitter via the links below 🙂
Like Woolworths on Facebook by clicking here
Follow Woolworths on Twitter by clicking here
Like Taronga Zoo on Facebook by clicking here
Follow Taronga Zoo on Twitter by clicking here
Competition closes 29 Sept 2013.
Full terms and conditions can be found here.