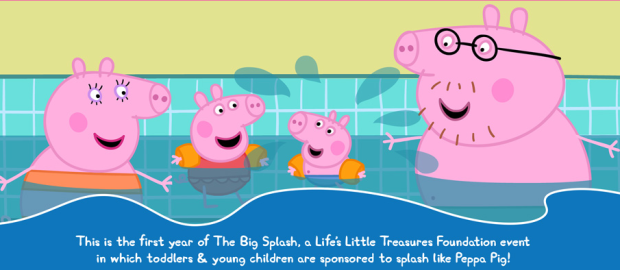 Peppa Pig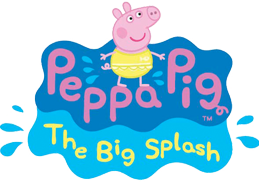 has teamed up with Life's Little Treasures Foundation to raise money for premature and sick babies. Together they have created 'The Big Splash' which runs from 1 March – 30 April 2014.
From March 1 to April 30 people are encouraged to sponsor children to 'Splash like Peppa' and participate in fundraising by holding splash parties at the beach, their homes or by attending a Big Splash event held by their local pool, creating as much splash as possible in five minutes.
The perfect way to have heaps of fun whilst raising funds for Life's Little Treasures Foundation.
Life's Little Treasures was founded in 2005 by parents, all of whom had premature or sick babies. They offer support, friendship and information specifically tailored for families of children born premature or sick. Having a sick or premature baby can be a traumatic experience. Life's Little Treasures makes it their mission provide these families support and information needed during this time.
 "Each year, in Australia, around 45,000 premature and sick newborns require medical support in Neonatal Intensive Care or Special Care nurseries. Having a child that is premature or sick places a great emotional and financial burden on that family. With the funds raised, more families will receive the much needed support they require to ensure the best outcome for their baby"
Shusannah Morris, CEO Life's Little Treasures


Parents can find out more information and register their children for this splashtastic event at www.thebigsplash.org.au
Plus the top 10 fundraisers will win $100 worth of Peppa Pig Zoggs products. So come on, let's get splashing like Peppa and raise some much needed funds for a truly worthwhile cause!
***********************************************************

For all you Peppa Pig fans I have a great little giveaway. One lucky reader will win a Peppa Pig Clothing Pack valued at $52.99. The prize pack contains a Peppa Pig Dressing Gown and PJ set (both Size 2), pictured below.
To enter just leave a comment on the blog below and tell me…… where would your kids love to have their Big Splash event at?
I would also love you to share this post with your friends to help raise awareness of this wonderful fundraising campaign. The more people who know and participate means more much needed funds are raised for Life's Little Treasures.
Competition ends 10 March 2014. Full terms and conditions can be found here.