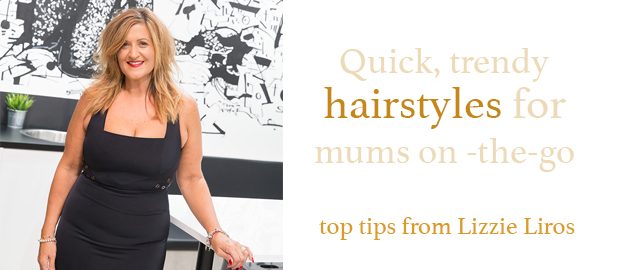 Award winning Sydney hairstylist Lizzie Liros is a busy single mum of three who runs a global hairdressing business and booked out salon. If there is one thing she knows it's how time poor we mums can be when it comes to our daily beauty routine.
We caught up with Lizzie this week as she gave us some inside tips on how to create three super chic hairstyles quickly and effortlessly. With the right pro tools and Lizzie's simple steps to follow you too can banish the boring mum bun and say hello to stylish hair!
TOP TIPS:
Keep it simple, gorgeous hair doesn't need to be complicated
Invest in the right tools, a good quality blow-dryer, straightener and curling wand, these will help speed up your styling time
Work with what you have, find 5 go to styles that work for your hair and then play around with variations of each
Adding simple twists to every day styles can totally transform a look ie adding a braid to a bun, curling a ponytail, trying double boxer braids for a casual look and a soft lose fishtail braid for a night event.
You can't go past simple curls to make a women feel instantly sexy
MOST IMPORTANT TIP:
Investing just 10 minutes a day onto doing your hair (and makeup) can make a tired time poor mum feel a million dollars. So remember, you are worth it!

Soft Sexy Waves
"Gorgeous hair doesn't need to be time consuming or complicated" says Lizzie. "Any mum can create this look quickly and easily with the right curling wand and a little know how. It's perfect for a shorter lob or medium to long locks."
Part clean dried hair on desired side.
Spray hair with L'Oreal Professional Tecni Art Natural Finish (150ml $18.95) before styling.
Starting from the front of the hair around the face, take a thin vertical section of hair from the part line down to the nape (just under your ear).
Curl the section of hair with a straightener like the Philips MoistureProtect Straightener, by winding hair away from the face.
Hold for 5 seconds and then remove the hair from the curling wand keeping the curl in tact. Allow the curl to cool and set.
Continue this same system with remaining hair and allow to cool for 15 minutes.
To finish tip your head upside down and run your fingers through hair to loosen curls. Spray with L'Oreal Professional Tecni Art Natural Finish for a natural hold.
ONE SIDE BRAIDED BUN
"A simple bun is the go to hairstyle for many busy mums, this chic style is a more trendy take on a standard everyday bun" says Lizzie.
Blow wave with a professional quality browdryer like the Philips ProDryer (RRP $199.95) and part the hair on a clean centre part.
On the left hand side of your hair, section off a 3-inch wide section of hair from your hairline working inwards to your part line and tie back the rest of your hair to the opposite side to keep it out of the way.
Spray hair being braided with a medium hold flexible hair spray before styling.
Divide hair into three even sections and start braiding a simple inside braid, working from the front of the hairline backwards down to the side of the nape. Ensure braid is tight enough to hold the style in place, but not pull at your hairline.
Continue braid until you reach the back lower hairline and tie off with a thin elastic that matches your hair colour.
Untie the remainder of your hair and comb softly back into a low side bun at the base of the braid, ensuring the hair on the right is combed down towards the right ear keeping the clean center part then softly swept around back into the left hand side bun.
The bun doesn't need to be super neat, the idea is to create a knotted, effortless "thrown together' looking bun. So simply twirl hair into desired shape, ensuring to include any hair at the end of the bun tie, and pin into place with bobby pins. Ensure all ends are tucked in before pinning.
Allow any natural fly ways to flow freely and add to the bo-ho, breazy, effortless feel.
TIP: This style can be worn with a braid on each side and the bun pulled back to the lower middle back of the hair.
VOLUMOUS TEXTURED PONYTAIL
"This is a really simple look to create, but right on trend and perfect for day or night" says Lizzie.
Part hair in a centre part and starting about 10cm back from the hairline pull hair into a relatively high ponytail, leaving the fringe section out.
Before you tie the hair in place pinch the hair at the crown of the hair and gentle pull it out to create volume at the top of your hair. Then tie ponytail in place with a thin elastic.
Wrap one thin piece of hair around the ponytail to hide the elastic and pin in place with a bobby-pin.
Spray the ponytail with a heat protectant spray such as Paul Mitchell Hot Off The Press (RRP $24.95, 200ml).
In small sections, curl the ponytail with a straightener like the Philips MoistureProtect Straightener (RRP $139)and allow to cool.
Hold the ponytail together as one section of hair and using a vent brush, brush out the curls so that one soft wave is created through the lengths of the ponytail!