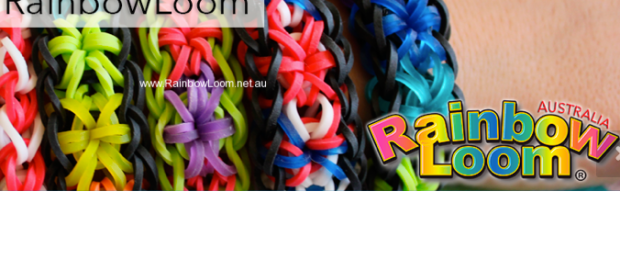 So there's a new craze in town – The Rainbow Loom!
My daughter was so excited when she found out we were getting a Rainbow Loom that I thought she might burst. So what is it? Well basically, as the name implies, it's a loom which uses small rubber bands to create a whole array of things.
The most common (and easiest) thing you can make with the Rainbow Loom is a (single patterned) bracelet. As soon as we received the Rainbow Loom it was a bracelet making frenzy. Miss 7 was making them for me, her brothers and of course herself. Much to my surprise Mr 9 informed me that everyone at school had a Rainbow Loom bracelet – even the boys! Mr 9 proudly wore his blue and white bracelet his sister had made him to school and told me that all his mates wanted to have it.
Silly me had stereotyped it as a predominately girl toy – alas I was wrong, the Rainbow Loom appears to be equally worshiped by boys and girls.
The Rainbow Loom is highly addictive and has the capacity to create some pretty impressive items. Miss 7 has been glued to YouTube looking at tutorials, so has everyone else it seems with one tutorial video we watched clocking nearly 3 million views! Rainbow Loom have an official YouTube channel were you can find heaps of instructional videos. You can also find instructions at www.rainbowloom.net.au
Below is the loom with the rubber bands placed ready to make the easiest form of bracelet (singe patterned).
After you have placed the rubber bands in a zig zag pattern all the way to the end you use the crochet hook tool to pick up each band and move it to a particular place on the loom. Where you move the rubber band will depend on the item and pattern you are creating.
Its a bit tricky to get the feel of how it all works without doing a video (which I may do in the future with Miss 7 as my helper), but below is a picture of Miss 7 moving the rubber bands on the loom.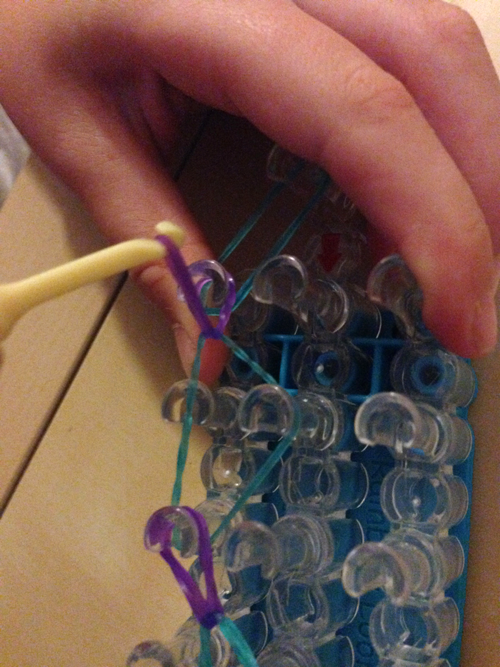 Once you have complete the bracelet the two ends are joined by a c-clip. It's called a c-clip because it's shaped like a C and you hook each end onto the C.
You can also use the mini Rainbow Loom tool – great for when you are out and about and don't want to take the whole loom set up.
There are heaps of possibilities with both the big Rainbow Loom and the Mini Rainbow Loom – bracelets, keytags, bag tags, necklaces, rings and more. The Rainbow Loom Kit costs $19.99 and includes The Rainbow Loom, the Mini Rainbow Loom, hook, bag of C-Clips and 600 assorted rubber bands which is enough to make about 24 single patterned bracelets. The bracelets below are a bit trickier and are called 'fishtail' bracelets which Miss 7 found a tutorial for on YouTube.
You can purchase the Rainbow Loom Kit from Spotlight, Craft Direct and Rainbow Fun – check here for stockist information.
A word of advice – keep the rubber bands stored in a plastic container! I have found them all over the house.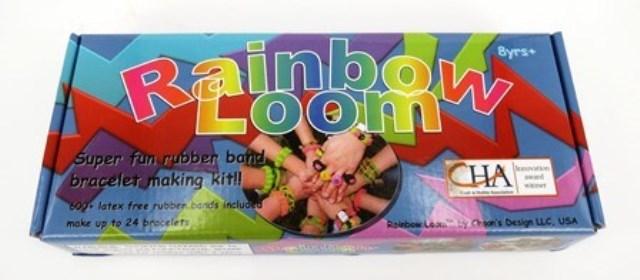 I have two Rainbow Loom Kits to give away.
To enter just leave a comment below and finish this sentence…"I want to join the Rainbow Loom craze because…."
You can also subscribe to my blog 🙂 and follow me on social media 🙂 if you like, but entries will be solely judged on the creativity of your answer below.
Comments are moderated so they may not appear straight away, competition ends midnight 23 March 2014. Full terms and conditions can be found on my formal stuff page.
Gook luck and happy looming!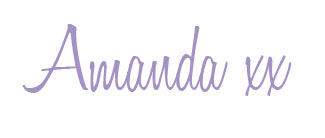 Disclaimer: I received a complimentary Rainbow Loom Kit to assist with writing this post. As with all content on my blog, including: reviews, general posts and sponsored/paid posts – the views expressed are entirely my own.