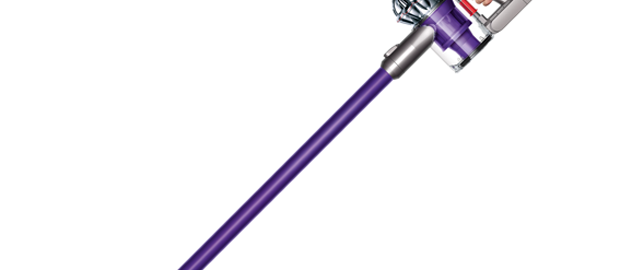 Overall Score
4.5

DC59 Power

DC59 Emptying

DC59 Storage

DC59 Price

DC59 Weight

The latest Dyson Digital Slim DC59 vacuum is lightweight, cordless, and packs the same power as a mains vacuum clear. RRP $649 for the Animal model and $599 for the Multi floor. 
Find the new Dyson Slim at www.dyson.com.au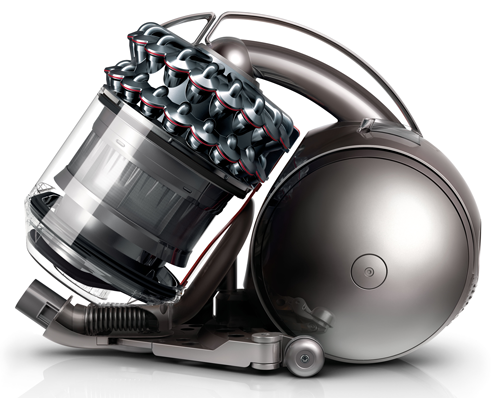 The Dyson Cinetic is the only machine with no bags, no loss of suction, and no filter fuss. RRP DC54 Animal Pro $1099, DC54 Animal $999, DC54 Allergy $899, DC54 Multi floor $799. 
Find the new Dyson Cinetic at www.dyson.com.au

I was lucky enough to receive both the  Dyson Digital Slim DC59 and the Dyson Digital Cinetic DC54 to trial for two weeks, here's what I thought….
My Review of the Dyson Digital Slim DC59 
Ok, a bit of background. I have a (very) old, hand-me-down vacuum cleaner. It uses a bag and does it's job – so I thought. I've been in the market for a new vacuum cleaner so when the opportunity to trial the Dyson/s came along I jumped at it. Dyson have a good reputation and I've always wondered whether they're actually as good as they claim to be.

I wasn't disappointed. This baby sucks – in a good way.
The carpet in our house is around 15 + years old and beige (why-oh-why they chose beige I'll never know, it's not very forgiving with 3 kids and a dog!). If we owned the house (we currently rent) the first thing we would do is put down floor boards. Both my oldest son and I suffer from allergies and hay fever, so the carpet is a real pain.
The Dyson Digital Slim DC59 is powerful, very powerful, given it's size. It only weighs 2kg. If you want to get technical, it has 2 Tier Radial Cyclones, 15 cyclones working in parallel across 2 tiers….all I know is that it amazed me AND my husband (that's impressive in itself, he doesn't impress easily). The greatest thing about this machine is it's CORDLESS. That does mean you have to charge it but after each use I just put the machine back on to charge so it never really "ran out" of charge while I had it.
I tried the Dyson Digital Slim DC59 in my boys room (which hadn't been vacuumed in about a week) and within a 2 metre square area I filled the bin!!!! I couldn't believe how much dust and stuff was sucked up from an area that seems relatively "clean". It made our dirty beige carpet look cleaner than I thought it could get, and the amount of dust that came up from that small area shows just how strong the suction is.

What I liked about the Dyson Digital Slim DC59 
– IT HAS NO CORD!! This has to be the best feature about this machine. Once charged it will give a good 20 minutes, which doesn't sound like a heap of time but it's more than you need (unless you live in a huge mansion and if you do I would be questioning why you do your own vacuuming!)
– It's small and light (only 2kg) making it easy to hold it in one hand and get to those hard-to-reach spots (like cobwebs in the corners of the ceiling). 
– It's powerful, with amazing suction for something so compact.
– The bristle-head section was easy to take apart and clean (and easy to put back together again)
– It can be easy transformed into a powerful little hand-held "dust buster". By just taking off the long tube and replacing it with one of the two smaller attachments you vacuum along the skirting boards and my husband even used it to clean the floors of the car!
What I didn't like about the Dyson Digital Slim DC59 
– Emptying the bin. I found this to be a bit awkward and messy. The bin doesn't remove from the unit. Given that the bin emptying is a listed feature of this machine I was a little disappointed. There is a little red lever that you push down which opens the bottom of the bin to empty it. I thought the placement of this lever was odd and a little difficult to get to. You need to hold the handle with one hand and push the lever down with the other – everything then falls out into the (strategically placed) bin below. The fine dust flies around and you have to "bang" the side of the bin to get all the gunk out (or pull it out with your hand). It's not a huge issue but I got my husband to wrap a plastic bag around the bin because all the fine dust that flew out aggravated my hay fever. You need to empty this machine outside:) 
My verdict – Dyson Digital Slim DC59

Short story is – I am getting one. 
All the positives far out weigh the only negative I could find. It's a light, versatile and powerful machine and although it carries a price tag of $649 (Animal model, $599 for the Multi floor) it's worth every penny. It comes with a 2 year parts and labour guarantee and the battery charger has an Energy Star rating due to it's energy efficiency.
DOUBLE THUMBS UP for the Dyson Digital Slim DC59.

My Review of the Dyson Digital Cinetic DC54 
So after trialling the Dyson Digital Slim DC59 I wasn't sure if things could get more powerful. But you only have to look at this baby to see it's a beast!
As I said before, we have super old cruddy carpet (that our landlord should have replaced a long time ago) the Dyson Digital Cinetic DC54 actually sucked our carpet off the floor. It had such strong suction that you could actually see the carpet lifting up!
The Dyson Digital Cinetic DC54 works using cyclones. It has smaller cyclones that generate higher centrifugal forces, therefore capturing smaller particles. It's pretty hi-tech as you can tell by the image above.
If you want more info on how it all actually works you can view the video below from Dyson
As a busy mum I just want a vacuum cleaner that cleans my house with as little energy from me as possible. The Dyson DC54 did just that. I actually found that this machine was possibly TOO powerful for my dodgy carpet. Because our carpet is so old and thin I was afraid it might just suck it up completely.
In my video above you can see how powerful this machine is. You will notice a "weird" sound coming from the machine about mid-way through the video. This sound is courtesy of a tiny piece of LEGO which was sucked up and was spinning in the bristle-head section. After we finished the video my husband (who was my model for these videos) easily plucked the tiny bit of LEGO out of the bristles.
Dyson states that the DC54 is the only machine with no bags, no loss of suction and no filter fuss. I found the suction unbelievable and the machine was easy to get around and not too cumbersome.
What I liked about the Dyson Digital Cinetic DC54 
– IT'S POWER!! The suction on this machine is frightening and as I said above nearly too powerful for my flimsy old carpet!
– Being a plug in machine was both a positive and a negative. The positive is obviously it's ready to go as soon as you plug it in.
– The bin removes completely so you have more control in emptying without mess.
– Nothing to do with how it works but I really love how it looks – a very impressive looking machine.
What I didn't like about the Dyson Digital Cinetic DC54 

–  It has a cord. Obviously the cord gives it certain limitations.

–  It's quite big which wouldn't be a negative for most people but when it comes to storage it was a bit large and an awkward shape for my cupboard
My verdict – Dyson Digital Cinetic DC54
This machine means business. It is super powerful and impressive to look at (reminds me of my husband – ha ha). For me though it was too much, it was kind of like driving a Lamborghini to school drop offs – nice but slight overkill.
This machine would suit a larger household which needs the grunt this machine gives. If you are looking for a good solid vacuum cleaner you can't go past this one. It's bag less, has no filter and comes with a 2 year parts and labour guarantee.
READER TRIAL OFFER HAS NOW CLOSED – Congrats Casey P, hope you enjoyed your trial!

I'm giving one lucky reader the chance to trial and review the Digital Slim DC59 for 2 weeks.
If you think it's as great as I do, Dyson will give you a 20% discount if you wish to purchase it.
To be in the running you just need to answer this question (in the comments section below):
"What problem do you want Dyson engineers to solve in your home?"

You have until 30 Nov 2013 to get your entry in and I will announce the lucky reader reviewer on 1 Dec 2013.