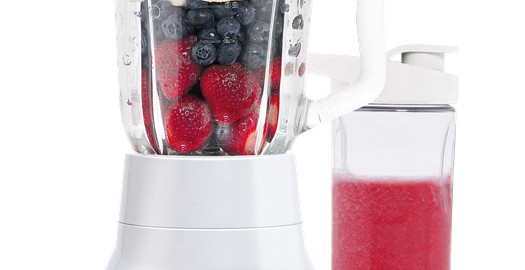 Overall Score
4.5

Easy to use

Versatility

Functionality

Appearance

Price

I have been a smoothie lover for a while now.
To whip up my juice and smoothies recipes I've been using the George Foreman Mix & Go. I love this appliance because I can do exactly what it says – Mix & Go. It has a great little bottle, that with the change of a lid makes it transportable, perfect for my breakfast on the go.
When I was asked to trial the George Foreman Mix & Go Pro I freaked out, I mean how could you make this appliance any better? The answer…add a 1.5L glass jug! I was so excited when the Mix & Go Pro arrived I did my first ever unboxing video (below). My son recorded it (he loves unboxing videos on YouTube) and it's portrait not landscape but it gives you a good idea of what's in the box.
So in the (shaky and amateur) video above we forgot to show the lid for the small bottle but it was in there. There are three main components in the box:
the base which is 800 Watts and has 3 Speed settings + Pulse and a pre-programmed smoothie setting
the glass jug which is 1.5 L
personal bottle and lid which is 600ml and BPA free
Other features include:
Advanced Fusion Blade Technology
Dishwasher safe parts
Non-slip rubber feet for stability
Cord storage
12 month warranty
Once everything was out of the box it was super easy to set up and get going. The first thing I made was some cupcakes for Little L's birthday. It seems it's a thing to take cupcakes in for your class on your birthday. This was just a packet cake and I threw everything into the blender and let the Mix & Go Pro do it's thing. When you are blending hard/solid and liquid ingredients together it's best to put the solid ones in first then the liquids on top. The video belows shows me making the cupcakes using the Mix & Go Pro.
What I love about the George Foreman Mix & Go Pro is the versatility.

Using the glass jug you can blend soups, puree veges and blend tough stuff like ice and raw veges (or make a cake, like me!). I can't wait to blend up some yummy winter soups! Whether it's soups or smoothies, the 1.5L jug makes it easy to prepare large quantities for the whole family and with the separate bottle attachment you can make smaller quantities to take on the go.
My favourite feature is the Smoothie setting.
This is a thirty second program which goes through different speeds to get the perfect smoothie every time. So quick and easy. If you want a yummy smoothie recipe you can see my other post here.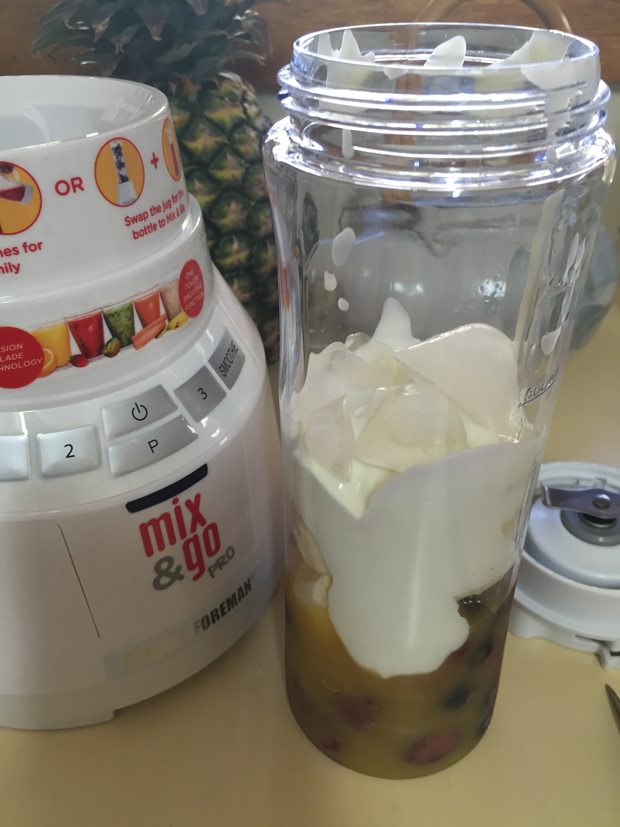 It's easy to clean. For a quick clean, just pop a small amount of warm water in the glass jug with a couple of drops of washing detergent and run the motor for about 30 seconds.
The good thing for me is my existing Mix & Go bottles are compatible with the new Mix & Go Pro – Yay!
The price isn't bad either. The George Foreman Mix & Go Pro retails for $79.95 which is pretty reasonable.
I am really impressed by the George Foreman Mix & Go Pro, the only problem is my kids keep nagging me to make smoothies all the time!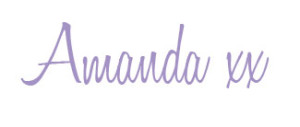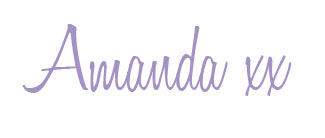 Disclaimer: I received a George Foreman Mix & Go Pro to facilitate this review. I received no payment and the views expressed in this review are entirely my own.