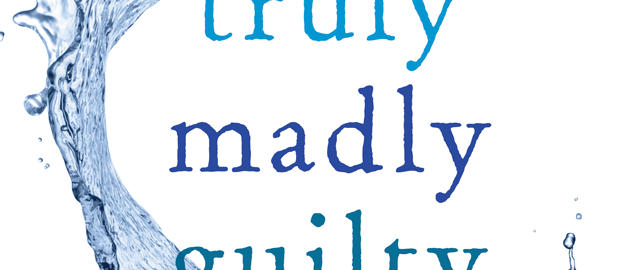 Overall Score
3.5

Cover

Story

Writing Style

Credibilty

Price

This was the first Liane Moriaty book I've read.
I've heard good (actually great) things about her books so I was excited to sink my teeth into Truly Madly Guilty which is Moriaty's latest novel. The book was slow-ish to start but not slow enough for me to give up on it. I found the characters interesting and could relate to many of them, I almost felt like some of them were written about people I know.
Once you are into the book it's hard to put down due to the impending incident that the whole book is centred around, which happens on 'the day of the barbeque'. I really enjoyed Moriaty's writing style and the in depth way everything was described, it really helped me connect with the characters.
Truly Madly Guilty has all the emotions.
In parts it's funny, and I found myself sniggering on the bus as I read on my daily commute, other times its so sad I nearly cried. This is a wonderful book about friendship, relationships and what really matters.
I gave it 3.5 out of 5
 
The official book synopsis
IF ONLY THEY'D SAID NO…
Clementine is haunted by regret. It was just a barbeque. They didn't even know their hosts that well, they were friends of friends. They could so easily have said no.
But she and her husband Sam said yes, and now they can never change what they did and didn't do that Sunday afternoon.
Six responsible adults. Three cute kids. One playful dog. It's an ordinary weekend in the suburbs. What could possibly go wrong?
Marriage, sex, parenthood and friendship: Liane Moriarty takes these elements of our lives and shows us how guilt can expose the fault lines in any relationship, and it is not until we appreciate the fragility of life that we can truly value what we have.
About the author
Liane Moriarty is the author of six bestselling novels, Three Wishes, The Last Anniversary, What Alice Forgot, The Hypnotist's Love Story, The Husband's Secret and Big Little Lies. Her books have been read by more than six million people worldwide.
The Husband's Secret was a number 1 New York Times bestseller. It is set to be translated into more than thirty-five languages and film rights have been acquired by CBS Films. Big Little Lies reached number 1 on the New York Times bestseller list in its first week of publication – the first time this had been achieved by an Australian author. It was also number 1 on the Australian fiction charts and is currently being adapted for television by HBO, starring Nicole Kidman and Reese Witherspoon. Liane lives in Sydney with her husband, son and daughter. You can find out more about Liane's books at her website www.lianemoriarty.com