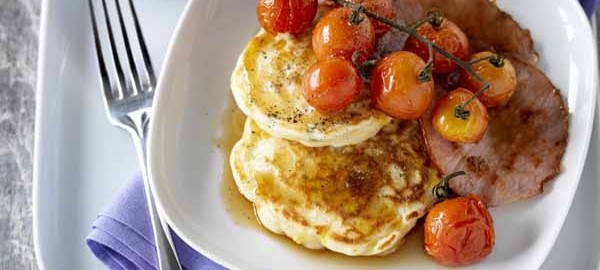 Tomorrow, 4 March 2014 is Pancake Day.
YUM! I luurrrve pancakes.
I try to watch what I eat but no-one should miss out on a Pancake opportunity. Lucky for me (and my waist line) Weight Watcher's have created some healthier pancake options and I gave one a whirl – didn't really need to twist my arm on this one🙂
There are 10 great pancake recipes to choose from, sweet and savoury, but I chose Sweet Corn Pancakes with Bacon and Maple Syrup.
YUM! Did I mention I love pancakes?
My kids love pancakes, corn, bacon and maple syrup. I love pancakes. This was a win- win situation. Perfect for a quick, easy Saturday night dinner solution.
These pancakes were super easy. Basically flour, eggs and corn and there you have it.
The recipe makes 8 small pancakes, so with a hungry family of five I doubled the mixture.
The corn pancakes were similar to corn fritters. The kids really liked them – we all did.
The bacon was delicious and the maple syrup topped it all off.
No lie, these pancakes were simple and delicious. Below is the professional shot of the recipe and the one to the right is my pancakes – can't tell the difference right? 🙂 🙂 🙂
You can get this (yummy) recipe here:
Weight Watchers Sweet Corn Pancakes with Bacon and Maple Syrup
Visit the Weight Watchers website for other great recipe ideas.