Last Thursday I completed an 8 week challenge.
My challenge was pretty simple really – to be on The Chocolate Diet for 8 weeks. EASY!!
A quick recap about The Chocolate Diet. It is a shake based diet that focuses around the absolutely awesome nutritional benefits of dark chocolate. So why is dark chocolate so good for you? Well the cocoa contains high levels of nutrients called 'polyphenols' (plant chemicals) which have many health benefits including helping to control fat stores and your appetite.
The diet is structured with 5 meals: brekkie, morning tea, lunch, afternoon tea, dinner….. PLUS a dark chocolate TREAT!!
> Two of your main meals (brekkie, lunch or dinner) are replaced with a chocolate (or choc/berry) flavoured shake
> One of your main meals (usually dinner) is a healthy normal meal option of your choice. Keeping in mind this is not when you pig out on McDonalds. As part of The Chocolate Diet program they give you easy to follow meal plans and recipes and an understanding of the right portion size- to keep you on track for your desired weight loss.
> Two snack meals (afternoon and morning tea) are healthy options like fruit, yoghurt, berries etc. Again options are explained in your meal plan.
> AND DRUM ROLL……a DARK CHOCOLATE TREAT (usually for desert) . This heavenly block of dark chocolate is fairly generous in size and extremely tasty, and at the end of the day it is just the treat you need to keep your diet on track. In fact having the chocolate everyday made it feel like I wasn't on a diet at all!!
A couple of things I noticed during the eight weeks – some I expected and some I did not:
– my hair and nails grew faster and seemed in better condition. The diet doesn't lay any claims to do this but non-the-less it happened.
– I wasn't a huge fan of dark chocolate prior to the eight week challenge but am now a convert. So much so I can no longer stomach milk chocolate, it just taste too fatty or oily or something.
– people commented how well I looked (which was nice)
– I was NEVER hungry on the diet
– the shakes were DELICIOUS
– I saved a HEAP on lunches and food etc whilst at work during the week. Instead of heading out to buy my lunch (sometimes up to $15- $20 with a drink depending where I go), I had my trusty shake.
– the diet was convenient and flexible.
– I felt better about myself and my clothes fit better!!

But stop rabbiting on…how much did I lose???
Ok, Ok…..I started The Chocolate Diet at 85.5 kilos (oh the shame) and am now……….
78.7 kilos with a total loss of 6.8 kilos – see the proof below with my before and after shots (wearing the same jeans which are now much looser).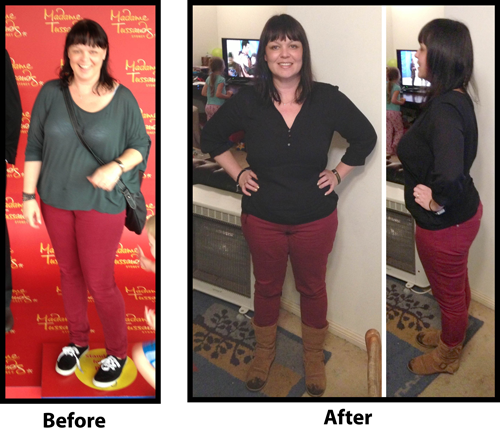 This loss did not include me exercising much – if at all.
I think I managed to get to the gym once or twice over the eight weeks so a 6.8 kilo loss is fantastic.

I will be continuing with the diet because I would love to get to 75 kilos and I would recommend it to anyone who is looking to lose a few kilos and doesn't want to feel like they are on a diet 🙂
 This competition is now closed.



So to celebrate my success I am going to give away a weeks supply of The Chocolate Diet valued at $60.
To enter comment below with your best Chocolate Diet jingle – get creative!
Winner will be announced next weekend – Sunday 2 June 2013 – good luck!